Silurian Corals
---
Favosites.
This is a common coral found in the limestone on Wenlock Edge. I believe this species to be Favosites gothlandicus.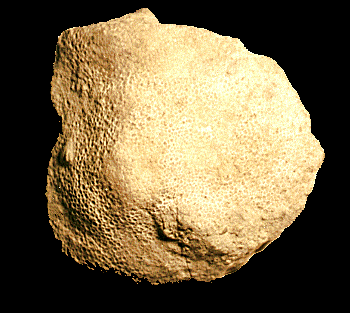 These were important in building up the thick coral reef mass which, after faulting and erosion, became the Edge.
---
Halisites.
On my second trip to Wenlock Edge I specifically looked for pieces of the 'chain coral' Halysites but without any luck, or so I thought. On examination of a large piece of reef, collected for other purposes, I found several pieces of the coral that I wanted.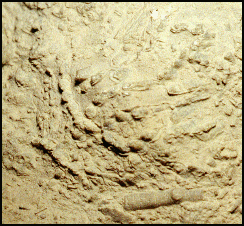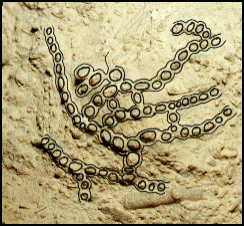 I have superimposed a drawing made using the actual specimen as a guide on the image on the right as the photograph is a bit lacking in detail.
---
Solitary Corals.
Solitary corals come in many and varied shapes and sizes. They are usually in the form of columns with nearly parallel sides or are horn shaped.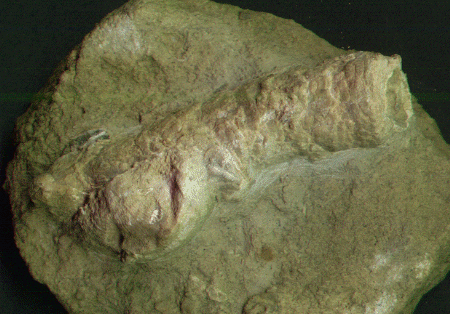 This is a Tryplasma sp. The bottom end ( to the left ) does taper to a point of attchment but this is partly obscured by an attached brachiopod.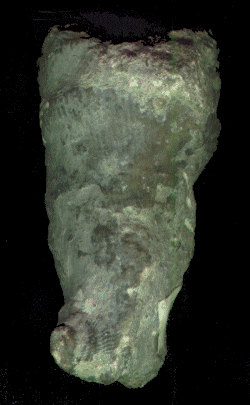 These are both Ketophyllum sp. and are fairly common in the Wenlock limestone.


---