Food
Although, on our walks through the Shropshire countryside, we never saw any pigs, the best produce from the area is pork! In it's many forms this meat is the staple diet of Salopians. And WOW what marvelous things they do with it!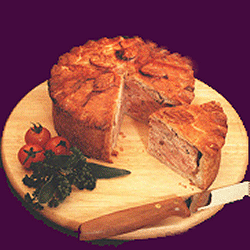 The Great British Pork Pie
Fresh from the bakery, no additives, no flavour enhancers, no added colour. Piled high in the bakers window in a swiftly decreasing mound! The crispy pastry, the tasty meat... MMMMM
Breakfast would be missing something without ......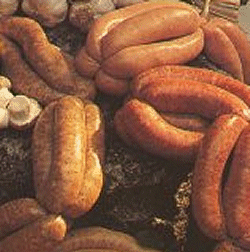 Sausages!!!!!
The best campsite breakfast was sausages and scrambled egg...
There are six independent butchers in Ludlow and they compete to see who makes the best sausages. At the annual Ludlow Food Fayre there are free samples and the visitors have to vote for their favourites.
Eating Out
We tend to look for the cheap-and-cheerfull type of places. When we were last in Ludlow 'The Bullring Inn' did really good meals but the place has changed owners and the food is now not great. But....
If you ever go to Ludlow have a meal at -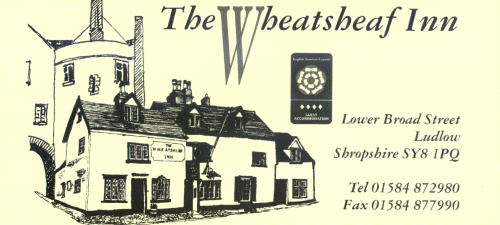 The food is wonderfull and reasonably priced... I recomend the steak and mushroom pie!
Back for More